GRAZING: Grana and Delbar provide two new opportunities for patio plague dining
A WITCH'S BROOM?: Roasted corn stands over lemon aioli beneath a headdress designed by the Wicked Witch of the West.
It was mid-July and I had not eaten in a restaurant in four months — not even outdoors. The idea was terrifying. I imagined people huddled on crowded patios, inhaling and exhaling the coronavirus like smoke in a hookah lounge. They would all be 23 and drunk, flaunting their dolphinlike lungs and uncreased skin, or they would be escapees from nursing homes blowing kisses through fingers coated with mucous.
Finally, though, more reasonable friends and desperation for something to write about convinced me to visit two restaurant patios. And, to my surprise, my anxiety did not become the panic attack I expected. I don't have too many illusions about this. I know that COVID-19's infection rate is "soaring" and "surging" — the media love those words — so that, once again, fewer people are entering public space. Don't regard what follows as a real-time account of anything more than the food at these places based on single visits. At this writing, both restaurants have menus for dining in and taking out. You should call ahead, because the pandemic comes with scheduling pandemonium.
First up was Grana, a newish Italian restaurant that opened just in time for La Corona in mid-March on Piedmont Avenue, near Cheshire Bridge. It is owned by the exceedingly talented Pat Pascarella, who owned a renowned restaurant in Connecticut and moved here, where he became executive chef at the Optimist, arguably the city's best seafood destination. Last year, he opened the White Bull in Decatur. It draws on Pascarella's Italian heritage, but is mainly a playful farm-to-table venue heavy on veggies. Its name pays homage to Ernest Hemingway, who romanticized himself as a writerly matador. He referred to the blank page as his white bull, his challenge to dance with an overwhelming onslaught of words until he found the perfect textual moves and slayed the beast of mediocrity with his pen. It's not a bad metaphor for the chef's challenge to shape seasonal harvests from local farms and create something masterful. Pascarella succeeds at that at the White Bull.
Much of the same ethos prevails at Grana, but the menu is explicitly and classically Italian. Like every Italian chef in America, Pascarella attributes his tastes and skills to his mother and grandmother, who mastered the classics of southern Italy. The menu is divided into seven sections: bread, mozzarella plates, meatballs, pasta, entrees, vegetables, and Neapolitan-style pizzas. There seriously wasn't anything on the menu that I wouldn't love to try, but two of us couldn't even finish the four dishes we ordered. Prepare for leftovers.
I knew that I was not going to pass up the fig pizza, one of my favorites, and this was by far the best I've had in years. Besides fat slices of ripe figs, the charred pie was topped with ricotta cheese and speck. Vincotto added a slightly sweet note that toyed with peppery arugula profusely scattered on the pie after it was taken from one of the two wood-fire ovens. I have to admit I did encounter an odd note of anchovies now and then. My companion didn't, so I don't know if this was my super-sensitive nose inhaling something from the lone table at the other end of the patio or what. As it happens, we did order a pasta dish that included anchovies but it did not arrive until well after the pizza.
The pasta was a classic, paccheri alla Norma — a Neapolitan favorite of rather chunky tubes of hollow pasta in a pomodoro sauce with anchovies, ricotta, and eggplant. It hit the spot but went way over the top with the pizza. The five other pastas are also classics, including pappardelle with a pork ragu and pecorino cheese, ricotta ravioli, and corn agnolotti. There are five equally classic entrees — two chicken dishes, wood-roasted branzino, and porchetta, which I'm anxious to try.
I didn't get to choose the meatballs we ordered, so my companion selected a savory serving of three meatballs in a tomato/mostarda sauce with currants. They were terrific, but why the hell didn't he order the beef ones with gouda, red onion, and black truffle jam? Our fourth dish was by far the most dramatic. In fact, when it arrived at the table I immediately thought of the Wicked Witch of the West, hurling fire balls from her broom while Dorothy proceeded to Oz. It was roasted ears of corn whose singed leaves were pulled back in a mad whirl. The corn itself was not particularly notable until you slathered it in the lemon aioli and Calabrian peppers on which the dramatic broom piece sat. Seven other vegetable dishes were available and, congruent with the White Bull menu, they were the menu's most compelling dishes to me. Well, they may have tied with the five mozzarella plates. I really wanted the burrata with prosciutto, peaches, and bread sticks. Maybe next time. And maybe I'll get a cannoli too.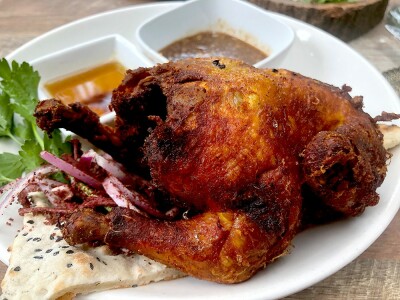 I did go inside the large restaurant for a quick tour in my low-fashion mask, and the place was smart but lonely. Only two tables were occupied. The capacious dining room includes a mezzanine, which seems to be an architectural thing with restaurants these days. There's also a long bar and a very open kitchen. Besides the tiny patio out front, there's also rooftop dining. Both come with plenty of oxygen. The staff is well educated about the menu, and our server had mastered the art of clear articulation while facially mummified. Give it a try.
My second experiment with patio dining during the plague was a visit to Delbar, a new Persian restaurant off North Highland. The name means "soulmate" or "true love" in Farsi, one of the most beautiful languages on the planet. If I had to name a psychedelic moment that involved no ingestion of psychedelics, it would be the afternoon in grad school I listened to an Iranian woman read the 13th-century Persian poet Rumi in Farsi. I told this story to my masked server, Radman, an Iranian student studying at Georgia State. We talked about how much more complex Persian culture is than its media representation. He visits often to see family in Tehran.
That being his experience, the restaurant's owner/chef, Fares Kargar, told "What Now Atlanta" that he left Iran for Turkey as a refugee when he was 17. He soon migrated to Atlanta to study hospitality and, for a while, worked at Rumi's Kitchen. Delbar is an ambitious project, not helped by opening during the pandemic. The bright, multilevel interior is huge and intriguing, probably reflective of Kargar's call to architecture before he discovered the restaurant industry. Just like Pascarella at Grana, he says the menu is inspired by the food his family's women cooked.
The patio at Delbar is small, and when a thunderstorm forced me inside, I sat at the otherwise empty bar (wondering if the friendly, masked bartender was a viral sponge). I was eating alone, so I didn't get to taste much of the menu. I ordered two dishes with which I had some familiarity. The main one was a Cornish hen coated in saffron and deep-fried whole in butter. You tear the bird apart with your hands and drag the meat through one serving of more melted butter and another of Iran's signature pomegranate sauce. The flavors verged on decadent, but in truth the bird's white meat was so dry that even an extra-long bath in the sauces was inadequate to add much moisture. I also ordered a plate of the traditional adas polo, a huge plate of saffron basmati rice with lentils and raisins. Traditionally the outer coat of the rice, topped with fried onions, is a bit crispy, but Delbar's not so much. Here's the thing, though. I took the leftovers home, tore the flesh from the bird, let it soak in some melted butter, sat it on the rice, then anointed it with pomegranate sauce. The result was much more appetizing. The crowded plating at the restaurant actually made doing this impossible. The rice was truly enough for more than two people, so order it with one of the mezzes, like "sour orange" prawns. Or make a meal of the mezzes, which also include falafel and spreads like hummus and labneh. Be aware, too, that every meal comes with a truly wonderful starter of charred, chewy flatbread with radishes, walnuts, an unusually good feta-type cheese, and herbs. Fold the mint and tarragon into pieces of the bread along with the cheese.
I did take a second meal home for the over-worked CDC scientist with whom I live, and I'm tempted to say it was better than my own, although I barely got a taste. He got a whole, silvery trout with walnuts, herbs, and pomegranate. He also got an order of the fried-eggplant spread with onion, mint, and cream of whey. He raved. Then he returned to the plague.
This may be the first Persian restaurant I've visited where I didn't order lamb, but there are three dishes on the menu — a stew, chops, and shwarma. There are also kabobs, vegetables, and three rice dishes besides the one I ordered. A few adjustments will make the restaurant a favorite destination for lovers of Middle Eastern cuisine. —CL—
Grana, 1835 Piedmont Ave. N.E. 404-231-9000, granaatl.com, @granaatl.
Delbar, 870 Inman Village Parkway N.E., Suite 1, 404-500-1444, delbaratl.com, @delbaratl.
---