GRAZING: Four new restaurants that won't give you the plague
And a cheap fix you can buy right off the shelf
PASTRY PLUNDER: The Little Tart Bakery makes the best croissants, almond or butter, in the city. The scones ain't bad, either. We are open to test competitors.
While the COVID-19 pandemic has permanently closed many longtime Atlanta restaurants, a surprising number are opening. Many are relatively small operations focused on takeout, but certainly not all. Since I'm still unwilling to eat inside a restaurant, I'm taking a look this month at four spots close enough to my place in Grant Park that I could rush my orders home with minimal risk of their congealing into gummy facsimiles. I ordered at the restaurants instead of calling ahead and I focused on sandwiches — the ultimate takeout food, right? — but strayed a good bit.
Before I describe my experience, I've got to say this: If you are a restaurateur who is not requiring masks and social distancing inside, you're contributing to the misery that engulfs the planet. At one restaurant recently, the host directed me to the corner of the bar to place my to-go order. Suffocating with my KF94 strapped over a surgeon's mask, I looked and told her no, I was not going to join the six unmasked people, including staff, standing around the bar cash register, aerosolizing the area with their laughter. I also noticed that the restaurant was empty except for maybe four tables, but they were all in unnecessarily close proximity to one another. Then I saw an unmasked chef walk to a table for a few minutes of chitchat. I know this has all been described repeatedly, mainly with bars, and I'm not going to join the shaming that has infamously forced some to close long enough to, oh, read death toll numbers and learn that safety measures are not just about protecting your super-hero-self, but also, if not mainly, the community in which you function.
I feel calmer now.
Elsewhere Brewing: This brewery — the second to open at the Beacon in Grant Park — endured a long pandemic-caused waiting game with builders and suppliers before opening in September. The inspiration is Euro-style cafes and beer gardens. So you have a large hangarlike interior bar and dining area that seats about 80 and a dog-friendly patio that seats about 50. I visited with two serious liabilities. First, a week of miserable weather kept me from sitting on the patio. Second, a tendency to take up residence in dumpsters if I drink alcohol kept me from enjoying Elsewhere's raison d'etre. (In other words, I don't drink.)

The menu here is really interesting. It features a strong Argentine influence. That means, since Argentina has a famously large population with Italian heritage, you get a mashup of flavors like Argentinian-style milanesa napolitana and empanadas filled with mozzarella and wild mushrooms. The hybridization broadens with chimichurri hummus and beer-glazed Amish chicken with oregano. Since I was on a sandwich binge, I went immediately to the "choripan" sandwich. It's a soft, house-made, white roll layered with grilled, locally made chorizo sausage, served with a bracing chimichurri sauce and a salsa criolla made with mild red peppers (put both on the sandwich). It comes with a large order of thin, red-speckled fries that stayed crunchy on the quick trip home. The sandwich is incredibly rich, and I only ate half of it. I suggest you order one to share along with something with a bit of acid, like the arugula house salad or the right carry-out beer.
Elsewhere offers a community-supported brewery program. A monthly fee provides cans or growlers, along with multiple discounts on events and merchandise. It even gives members access to annual culinary tours. The first will include travel through the Andes in Argentina. To be clear, this is about enlightenment achieved through drinking beer, not ayahuasca with a shaman — every millennial's stale requirement for coolness. The restaurant requires masks when not eating or when standing inside. There is a takeout window on the patio. (1039 Grant St. S.E., 770-727-0009, elsewherebrewing.com)
D.B.A. Sandwich Company: If anything I ate at these four restaurants has screamed at me to come back and have another, it's the Southern Italian Hoagie at this new takeout-only sandwich shop in the Irwin Street Market. The sandwich is a classic hoagie but it includes a layer of Carolina-style barbecue, When I first saw the sandwich on the shop's online menu, it was frankly one of those WTF moments that melds titillation with morbid curiosity. I love hoagies and I especially love Carolina barbecue — both favorites from a childhood that included Philly and the Carolinas, but, I mean …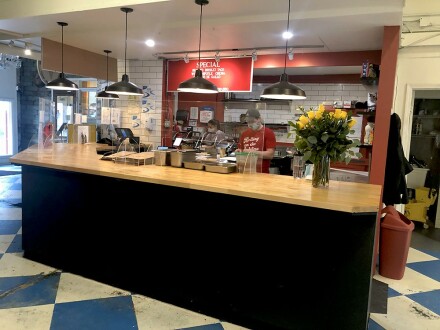 Here's the menu's description: "Spicy capricola, prosciutto, salami, and spicy Carolina chopped pork with pepperoncini and provolone on a toasted hoagie. Served with a side of Carolina vinegar sauce." To put it another way: you get the crunch of the warm bread, the creaminess of the melted cheese, the smooth earthiness and mild, layered spice of the three Italian meats colliding with the chopped pork whose vinegary taste is amped up by the pepperoncini and the side sauce. The sandwich traveled well. I was worried because it was wrapped tightly, which often adds to the effect of steam. I also tried a taco made with a small flour tortilla filled with braised brisket topped with chipotle-seasoned sour cream. The meat was tasty, but the tortilla was indeed a shriveled mess when I unwrapped it. Eat it outside or in your car.
The menu includes Cuban, Reuben, and barbecue sandwiches. Others are made with pot roast, pimento cheese with bacon, and more. This is the first expansion of D.B.A. Barbecue, the longtime Virginia-Highland favorite that opened in 2009. Masks are required. (660 Irwin St. N.E., 678-705-5684, dbabarbecue.com)
Woodward & Park: This restaurant in the Larkin on Memorial has been in planning for two years. It finally opened in September and, although its website says curb pick-up is offered, I ordered inside to get the food as freshly cooked as possible and to get a look at the roomy, clubby dining room and bar with an open kitchen. Nice. Then I got home and realized I'd only been given one entrée I ordered, plus two small plates I had not ordered. I drove back, was immediately handed the missing dish and told to keep the sides. It happens.
I opened the boxes. This place is five minutes from my home, but the food was everything you hope your takeout won't be. There was utterly no attention to aesthetics. The food appeared to be haphazardly thrown into the boxes and it was all steamed to hell, if not actually overcooked. The effect was to just about totally rob each dish of the complexity of flavors the menu promised. For example, an entrée of (three clumps of) roasted cauliflower supposedly included "sweet potato, charred eggplant, toasted hemp seed, black locust vinegar, fresh herbs." I tasted only tepid cauliflower and two skinny fingers of sweet potato and passed on the dish. The biggest disappointment was the main attraction to me, a Korean Pork Philly sandwich: "Gochujang-marinated Stone Mtn. Cattle Co. pork shoulder, house-made kimchi, scallion, white American cheese, caramelized onion, garlic aioli, served with hand-cut fries." Had I been blindfolded and asked what I was eating, I would have guessed "something mildly, densely cheesy." The texture was so gummy-greasy that I ended up scraping the filling out of the bun, pulling everything apart and adding some kimchi I had in my refrigerator. It helped. Fries? Dead. The third entrée, half a smoked Springer Mountain chicken, was the winner. It was surprisingly juicy, uncomplicated, and served with a pile of wild mushrooms and mashed fingerling potatoes. Homey.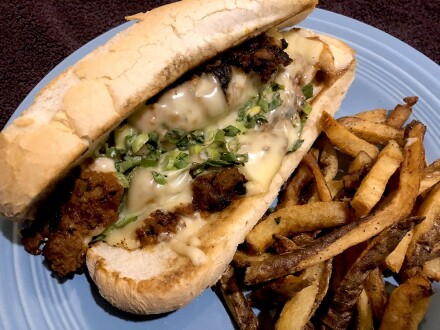 The two bonus small plates? I just can't. Two pierogi looked like flying saucers with a marble-sized cabin in the middle. Chewy and dry AF. The starter of Brussels sprouts had this description of its additives: "Dried cranberry, caramelized onion, pickled fennel, goat cheese, smoked olive oil, benne seeds." Sounds fantastic! I literally could taste nothing but super-bitter sprouts. I didn't even know about the other ingredients until I read the website description. Masks encouraged. (519 Memorial Drive S.E., 404-748-1091, woodwardparkatl.com)
OK Yaki:  Winner of the best bargain is OK Yaki, the brick-and-mortar home of the popular pop-up that's been around since 2016. Located next to the way-groovy Hodgepodge Coffeehouse, OK Yaki specializes in the street food of Osaka, Japan. The big deal here is the okonomiyaki, the grilled pancake that has become a national "it-food" in recent years. (In fact, Woodward & Park also makes them.)  Here's the menu description: "Japanese savory pancake made by mixing a rich batter with cabbage, green onions, pickled ginger, tenkasu, and nagaimo. Fired on both sides and topped with okonomi sauce, Kewpie mayo, seaweed flakes, bonito flakes, and one topping." There are eight toppings, from shrimp to steak, but I beg you to order the pork belly. It's thin-sliced and adheres to both sides of the pancake, adding crispy meatiness to the otherwise soft and luscious pancake. I also got an order of superb yakisoba — lightly sauced wheat noodles to which I added ginger chicken. I have utterly no complaints.

The menu also includes a handful of small plates, like Japanese-style fried chicken, a panko-crusted fried pork cutlet, and dumplings. There's a burger made with ground beef, kelp, and bonito, plus a steak curry. The restaurant has a roomy inside dining room, but you can only eat on the large, heated patio where the takeout window is located. Both items I ordered traveled without problem. Masks are required. (714 Moreland Ave., S.E., 404-999-9254, okyakiatl.com)
FANTASTIC BARGAIN: I can't wait to try the new Mercer Street Meals, a takeout service operated by Lance Gummere, co-founder of The Federal and Bantam and Biddy. Before that, he was chef at The Shed at Glenwood where I became addicted to his weekly menu of weird-and-wacky sliders. The deal here is multi-course meals at ridiculously low prices of $25 for two or $45 for four. An example is baked salmon with lemony-herb pasta, broccoli-jalapeño slaw, and pimento cheese. Sliders with potato salad and salted caramel apple pie were available last month, as were cabbage rolls with herbed potatoes, salad, and dessert. Customers pick up meals at Gummere's home in Ormewood Park. They are available four nights a week, and you need to make reservations well in advance. Check out the website, mercerstreetmeals.com, to see the menu and order.
THE SUGAR REPORT:  The pandemic sucks but it sucks even more now that the Krispy Kreme on Ponce de Leon has burned to the ground. It was long the place to go when you left a club in Midtown without a hook-up and needed some compensatory, sticky, sugary love. Word is that it will be resurrected …. I have written here before about my longtime addiction to Klondike Bars, the Pavlovian treat with which I started rewarding myself after writing every 10 words of my doctoral dissertation 15 years ago. I finally broke the addiction two months ago and then, as if sensing my freedom, the company began selling drumstick-style ice cream cones that demanded my attention. They come in eight-packs, half chocolate and half vanilla. I'm happy to say they suck …. I am still struggling with my addiction to Kroger-brand ginger snaps. They are ridiculously cheap — $1.69 a box — and are a ton better than other brands, except for Trader Joe's. Generally, I'm frequently surprised how well Kroger products taste. I'm also addicted to tonic water, and their ultra-cheap version has a stronger flavor than even the over-priced boutique brands. Their take on Nutella is flawless …. I gobbled a caramel-apple-cheesecake bar from Baker Dude after picking up my sandwich at Elsewhere Brewing. I could have eaten 10. The bakery, infamous for its true-to-life cupcakes, has diversified greatly …. Little Tart Bakery still makes the best almond croissant I've eaten anywhere. I bought one and two other pastries for a friend's birthday party. Unfortunately, because the party was via Zoom, I had to eat all of them myself.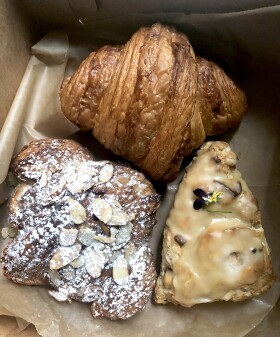 ONLINE SCORES: On the advice of my foodissimo friend Brad Lapin, I've been shopping on Eataly.com and scored cans of my favorite coffee, Lavazza, on sale for under $6, along with flawless pistachio butter and truffle risotto. He also advised me to try Mae Ploy Thai curry pastes, available from Amazon.com. I bought a triplet of red, green, and yellow versions, and I can't recommend them enough.
NEW RESTAURANTS I LOOK FORWARD TO TRYING: Baffi (Italian), Sea Salt Seafood Lounge, LowCountry Steak, Spicy Hill (Jamaican), The Chastain (American), Botica (Spanish-Lebanese-Mexican), Girl Diver Atlanta (Viet-Chinese), Apt 4B (French-Caribbean). There are many others.
—CL—
---