OUTLANDISH CONSPIRACY THEORIES: Another open letter to the Governor
Hiding facts in plain sight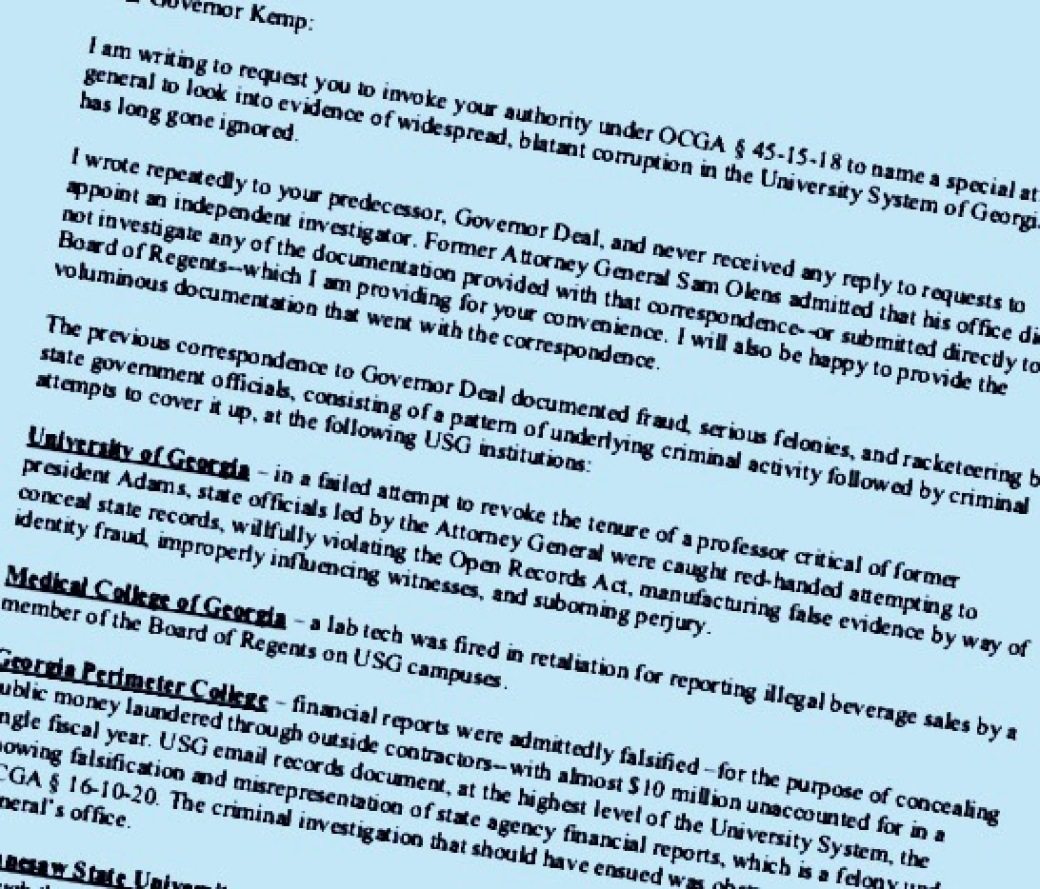 See: All Outlandish Conspiracy Theories columns
"[Humphreys] has already wasted enough of our attorneys' time with his nonsensical claims, and we will not respond to his latest attention-seeking gimmick." — Former Georgia Attorney General Sam Olens
They always say you should write your representatives. I have now written eight letters to the governor's office, calling attention to the probable theft of $9 million from Georgia Perimeter College through an outside contractor in 2012, which was never investigated, as former Attorney General Sam Olens admitted.

I cannot say I ever got much in return for the expenditure of time, paper, and ink. I wrote seven letters to Governor Nathan Deal calling his attention to corruption in the University System of Georgia (USG). Impertinent wags have scoffed that he was already aware of funds overflowing from state coffers. That does not mean it should be ignored.
I wrote the first of seven letters to Governor Deal in 2014, on October 31 to be exact — the same date, better known as Halloween, that Martin Luther nailed his theses to the door of the church in 1517 — but, in any case, historical parallels notwithstanding, Governor Deal never answered one of them.
Will I stand lonely by my mailbox again? I have written my first follow-up letter to Georgia's new governor, Brian Kemp. It should have arrived, in fact, just in time for Valentine's Day 2019.
I am asking Governor Kemp the same thing I asked Governor Deal — to use his authority as governor, under a statute the legislature saw fit to pass, to appoint an independent investigator to look into the government corruption I have called to his attention.
OCGA 45-15-18 gives the governor the authority to appoint a special attorney general to investigate crimes that have been reported, in the event that the attorney general elected to do the job cannot, or will not, investigate and prosecute.
It is a pretty good bet that current attorney general Chris Carr is not going to investigate any of these crimes any more than his predecessor, Sam Olens, did. That is because Carr is currently defending the alleged criminals in court, instead of investigating and prosecuting them, just like Olens before him.
Carr, who claims state officials who may have stolen $9 million from Georgia Perimeter College have sovereign immunity protection to do so, has gone so far as to argue that I have no First Amendment right to petition under the U.S. Constitution, to bring these claims in court without being subject to state government retaliation in the form of sanctions intended to discourage any attorney from ever insisting on the law as it is actually written in the face of this sovereign immunity juggernaut.
Carr is also stonewalling a complaint that the University System will not, in response to repeated Open Records requests dating since 2012, turn over records showing that state officials committed felonies in the handling of taxpayer money.
Most importantly, Carr's attorney general's office, like Olens', has been involved up to its neck in the alleged crimes by way of evidence tampering, obstruction, influencing of witnesses, and subornation of perjury — in addition to the willful, criminal violations of the Open Records Act.
So it appears safe to say that Carr is not going to investigate the alleged crimes or documentation from state records that the USG is withholding, either, which leaves Governor Kemp free to appoint an alternative investigator.
Ironically, former AG Sam Olens is the only state official who has ever answered one of my letters. That is only because an Atlanta Journal-Constitution reporter asked him about my first October 31, 2014 letter, which detailed a number of alleged crimes by USG officials that Olens was defending on grounds of sovereign immunity — meaning they can't be sued even if they committed the crimes, and even if there is evidence to prove it.
Well, I reasoned, if state officials who commit felonies cannot be sued in civil court by the individual citizens they harm in the process, because state officials have sovereign immunity protection, that is all the more reason they should be criminally investigated and prosecuted by the state if the charges bear up.
But Olens told the reporter the claims in my letter were "frivolous" because there was no evidence any of these alleged crimes were committed and that my request for an independent investigation was just an "attention-seeking gimmick." That was problematic because the evidence Olens denied was sitting on his desk. I sent it to him but he said he never investigated it. In fact, state records show that Olens blocked criminal investigations and blocked hearings required by USG policy just before the USG appointed Olens to a $500,000 a year job, despite concerns about his eligibility, as president of Kennesaw State University.
That was right after KSU President Dan Papp was ousted via a fraudulent "audit" issued by the USG to cover its own illegal tracks [auditors said he improperly received more than $577,000 in retirement pay.
Skulking around behind the scenes like that is one thing, but denying the existence of palpable evidence by denigrating it in the pages of the Atlanta Journal-Constitution is another issue. In Georgia, making a knowingly false claim on a matter under state jurisdiction is a felony. Concealing evidence of crimes amounts, in turn, to the crime of evidence tampering, and impeding an investigation on false grounds is obstruction of justice.
Maybe Governor Kemp will appoint an independent investigator, as I have been asking since 2014. My February 11, 2019 letter to Kemp is mainly a recap. Here is a montage of the greatest hits enclosed:
October 31, 2014 — The initial letter outlines five separate civil lawsuits based on criminal conduct by state officials that are being defended on grounds of sovereign immunity; points out AG conflicts; criminal obstruction; and requests appointment of an independent investigator. One of the cases involves an X-ray tech at Medical College of Georgia being fired, allegedly in retaliation for reporting conflicts of interest by a member of the Board of Regents. The alternative reason given for firing the state worker was he supposedly said a patient had smelly feet.
January 12, 2015 — This letter points out that AG Olens dismissed allegations as frivolous and nonsensical in the AJC, even though it was undisputed that financial records at Georgia Perimeter College were falsified; and requests the appointment of an independent investigator. State records show that GPC VP of Finance Ron Carruth reported a $37 million surplus at the same time he was secretly drawing money from reserve funds to pay the bills.
April 14, 2015 — This letter asking why Governor Deal has not answered the previous two letters, points out that Olens has contradicted himself by claiming the allegations in the original letter have been thoroughly investigated after first insisting that they were not investigated, and requests the appointment of an independent investigator. How can a crime be investigated and not investigated, too? We won't know till we put that man under oath.
March 7, 2016 — This letter provides details from emails among state officials documenting active concealment of a report prepared by state officials concerning $14 million that remains unaccounted for, while the report alluded to in the emails has never been produced in response to Open Records requests; and requests the appointment of an independent investigator. If a $14 million deficit was reported to the USG in March, why did Steve Wrigley [[current USG chancellor] tell the Board of Regents in May that the USG had known about it for less than a week?
September 13, 2016 — This letter calls Governor Deal's attention to Olens' attempt, based on knowingly false representations to a federal judge, to get a court order barring further challenges to his obstruction of investigation into the allegations (which Olens calls "outlandish conspiracy theories"); and requests the appointment of an independent investigator. Olens told the federal judge I had defied two court orders, but Olens forgot to tell the federal judge the orders in question had been reversed and vacated. So Olens asked the federal judge to punish me for violating orders that did not exist. Lewis Carroll could have used that one in Alice in Wonderland, not to mention Franz Kafka in The Trial.
January 29, 2018 — This letter apprises Governor Deal that we uncovered evidence showing Olens blocked a criminal investigation and a hearing required by Board of Regents policy into the reasons for concealing the fact that $14 million was missing from Georgia Perimeter College reserves in March of 2012, includes a detailed timeline showing deliberate falsifications of state agency finances, and requests appointment of an independent investigator. Instead of investigating claims of financial fraud in the USG, Olens asked the USG to do its own review of itself and alert him if they found they had committed any fraud.
July 4, 2018 — The last letter to Deal details obstruction, evidence tampering, and First Amendment retaliation by AG Chris Carr, and requests appointment of an independent investigator. This letter recounts one of the many instances in which Carr insisted that state officials have sovereign immunity protection to commit strings of felonies with impunity, and that I must be crazy to argue otherwise, since no reasonable person would ever agree with me. This is also one of the many places where Chris Carr ignores the opinion of the Georgia Supreme Court on this very subject, in Caldwell v. State, which states the opposite of Carr's position and agrees with me. In that case, former Labor Commissioner Sam Caldwell argued that a civil RICO action could not be brought against him because he was a state official. The Georgia Supreme Court analyzed the language of the RICO statute and held that it expressly authorized a civil RICO action against a state official.
These letters provide a strong factual foundation for the ongoing fight to hold state officials accountable for committing crimes in office, while AGs Sam Olens and Chris Carr have fought to give criminals in state government sovereign immunity protection. The language of the RICO statute, expressly authorizing a lawsuit against state officials, has not changed. Neither has the decision in Caldwell v. State, which the state is now ignoring, just like the letters. After Governor Deal did not answer the first letter, back in 2014; the media has also ignored the next seven.
I still don't know if my Valentine's letter to Governor Kemp will finally get a candid response, admitting that the USG and the AG have been working in tandem as a criminal enterprise, to protect state officials for committing felony RICO predicate acts — such as falsifying the financial reports of a state agency to conceal the theft of $9 million in taxpayer money.
Thursday December 31, 2020 06:21 PM EST
The university system and its independent audit — of itself |
more...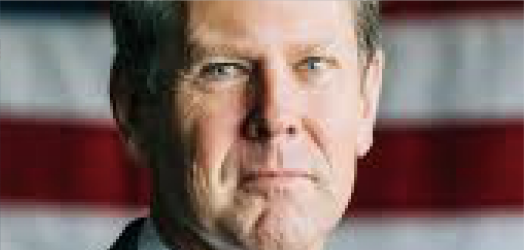 Monday December 21, 2020 11:39 AM EST
The 13th time's the charm? |
more...
Friday October 30, 2020 08:00 AM EDT
Junkyard kings, bootleggers ... and suits belly up to the bar |
more...
Thursday October 29, 2020 05:04 PM EDT
Why the Legislature is asking Georgia voters to save the state's Constitution from the Georgia Supreme Court |
more...
Thursday June 18, 2020 01:51 PM EDT
Outlandish Conspiracy Theories - A look at Georgia's Justice System |
more...
Sunday May 31, 2020 04:34 PM EDT
Conflicts of interest, sleight of hand, and the usual obstruction of justice |
more...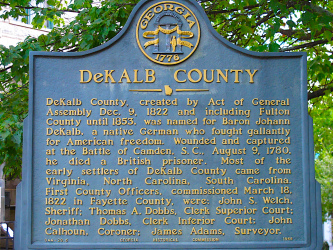 Wednesday May 13, 2020 05:47 PM EDT
Cloak-and-dagger theatrics play out in DeKalb County |
more...