GRAZING: Popeyes. Yes. Really.
But there's more that's good in the 'hood
UNSOLICITED ADVICE: The new Popeyes chicken sandwich features a buttery brioche bun that is easily deflated if it remains in the foil wrapping too long. So eat it on the premises. Be further advised that the sandwich induces contemplation and hand-wringing related to race and class in America.
Why has a $3.99 fried-chicken sandwich from Popeyes launched something like a YouTube reality show, featuring murder, mayhem, and orally-induced orgasms?
The question is succinctly answered in a comment someone made on my Facebook post about visiting my favorite Popeyes at the corner of Boulevard and Ponce de Leon. "It's always on the wrong side [[[of] Ponce when I come out of Whole Foods and want to stop in," he wrote. He meant that literally — the traffic snarls continually there — but it's also a perfect metaphor to explain the mega-drama of what's happening on the other side of the tracks — um, I mean road. Popeyes is to Whole Foods what unprivileged is to privileged. This drama is about increasingly overt classism and racism in America. 
Let me first reiterate my love affair. The sandwich is indeed delicious, but I've been singing the praises of Popeyes for at least 20 years in this column. Their spicy, buttermilk-brined chicken, loaded with salt and fat, is the juiciest, crunchiest path to arteriosclerosis I know, especially when combined with the honeyed-and-buttered cathead biscuits. And, hell yes, I thoroughly enjoyed offending foodie trolls for years with my praise of a brand that has been automatically dismissed because it's cheap fast food. Never mind that I was first introduced to the chicken by Edna Lewis's protégée, Scott Peacock, whose fried chicken and biscuits have received unending national acclaim. When I revealed that in my column, a few trolls became a bit more curious. By the time Antony Bourdain's insatiable addiction to Popeyes was disclosed years later, the trolls were taking selfies at the drive-throughs.
When I first started visiting the Boulevard-Ponce Popeyes, the area was barely gentrified. There was no Whole Foods, no Ponce City Market, and the nearby blocks of Boulevard were full of slummy and subsidized housing. (That's why I could afford to live nearby.) You could take a few turns off Boulevard and buy just about any drug you wanted. The Popeyes employees, surely 99.9 percent black, were ridiculously underpaid and still are. The company knows this, of course, so it kindly offers to pay the help in cash after their daily shift — like they used to do in mill towns and cotton fields. God save the oligarchy.
For years, I rarely saw another white customer at the Boulevard location. One of the few employees who lasted more than a couple of months used to excitedly announce my presence by shouting, "The white man, Bruce Willis, is here!" Honestly, I haven't seen much change in color — until this sandwich drama. When I recently visited, there was a fast-moving line of maybe 15 people — four of us white, including three teenage boys who asked me to video them while they hilariously ranted between bites that their healthy parents wouldn't pay for their "actually good" sandwiches. As I was leaving, two white men came in together, looking around nervously. Being as I am, I joked, "You'll be safe." They didn't laugh.
A few more white people coming through the door of the Boulevard Popeyes demonstrates how entrenched segregation remains in this second Gilded Age. Please understand that Popeyes is not an African-American enterprise whose black founder overcame racial adversity and rose to billionaire status. It was started in 1972 by a NOLA white man and has long been owned by typically white corporatists. Remember, too, that the chain drew tons of criticism 10 years ago for TV ads that featured "Annie the Chicken Queen," a latter-day mammy who apparently lost her kerchief. The fact is, these current, never-ending sandwich videos show black people actin' the fool. Even if not explicitly scripted, the videos are explicitly selected for broadcast by the mindless "news" media. And Popeyes sure isn't complaining about the millions in free advertising of this unplanned reality TV show. It was obvious that the five white guys I saw during my recent visit were there for a comedic adventure as much as a sandwich. They were joining the reality-show cast. Maybe we're all engaged in racial performance art. And, yes, I'm retroactively wondering if my own years of stories have marketed a stereotype.
Whatever, I'll never break my Popeyes habit, and I certainly won't be comparing it to Chick-fil-A, a company whose sandwiches are slathered in Christian hypocrisy, including that of Kanye West, who praises the chain in a cut on his new album. Man up, rich white people. Take the long journey into the heart of darkness and stay there for more than a minute. You might get to know yourself. The horror!
THERE ARE ALTERNATIVES
You don't have to eat at Popeyes. You could instead go to the remarkable new Zun Zún inside the We Suki Suki Global Grub Collective in East Atlanta Village. The stall has been opened by brothers Kevin and Terrance Allen, with help from their sister Myahh. The deal here is "Afro-Latino" cuisine, which grew out of Kevin's culinary explorations while building sets in Cuba for the film industry a few years back. Zun Zún is the name of a type of hummingbird he constantly encountered at his hotel.
The go-to dish here is the Cuban sandwich. It's made, as usual, with sliced ham, pork, Swiss cheese, mustard, and pickles. But the flavors are startling. The roasted pork is marinated in a wonderfully pungent house-made mojo. The pickles are also house-made, as is the mojo aioli, which is stronger than the mustard and gives the sandwich unusual creaminess as it meets the melting cheese. You can also get a chicken or vegetable version, and all three are available in bowl format without that poisonous gluten. 
The sandwiches are easily enough for two with a side. And you do want to try other dishes. I particularly love the crunchy okra fried in a breadcrumb batter and served with a house-made peri-peri sauce. (It's much milder than you might expect.) The empanadas I've tried have been amazing, not just because the roomy interior is lusciously filled with chicken, pork, or veggies, but because the pastry is so fresh. Ditto for the tostones — yellow and brown mandalas dusted with sea salt and served with aioli.  During both my visits I've missed the more complex specials like mofongo — a Puerto Rican favorite — with shrimp and peri-peri sauce.  I haven't tried it yet but the one dessert item during my visits has been an empanada that includes guava and cream cheese — something I totally burned out on after five years of marriage to a Cuban woman a century ago. An alternative is the Oaxacan-style, spicy hot chocolate topped with marshmallows that Kevin set on fire at my table. If ayahuasca tasted good, it would taste like this. 
Kevin describes himself as a "culinary school dropout" who left Atlanta Technical College when he got hired by the film industry to do construction work all over the world. He is returning to film work with the eventual plan of creating an Afro-Latino culinary empire with his brother. The man is smart, ambitious, and gifted, to say the least. Zun Zún is open 5-10 p.m. Tuesday-Saturday and empanadas are half-price 5-7 p.m.
Seeing the words "Zun Zún" probably reminds you of Zunzi's, right? I finally made it to this sandwich shop in South Buckhead. It is infamous on two counts. First, the sandwiches, inspired by South African cuisine, are delicious. Second, the restaurant's motto — Shit Yeah! — caused an anxiety epidemic among parents who feel they must protect their children's ears and eyes from a word they've likely heard since they wore their first diaper. The owners have toned down use of the phrase but have not eliminated it. After all, the ingredient that gives the sandwiches their unique flavor is the spicy Shit Yeah Sauce. So … no shit, no sauce, no special sandwich. Got it? 
Zunzi's is based in Savannah. The restaurant there was cited by People magazine for having the best sandwich in Georgia — the Conquistador. I ordered half of one. It's a French baguette split and filled with roasted chicken, Romaine lettuce, tomatoes, and Shit Yeah Sauce. It was good. Really good. But not good enough to make me high-five a sixth-grader and scream "Shit Yeah!" I also took a bite of the Godfather, a baguette more complexly filled with chicken, cheese, sausages, and Shit Yeah Sauce. Most notably, it includes a hefty swipe of marinara which pays homage to South Africa's many Italian immigrants. Merda, si!...
A more directly competitive alternative to the Popeye's sandwich can be found at Ponko, a local chain. I recently visited the newest one on Roswell Road. The restaurant's name refers to panko, the Japanese bread crumbs that add super crunch to fried foods. Ponko is all about chicken tenders in tacos, sandwiches, and salad bowls. I have to admit that chicken tenders, fingers, whatever, creep me out. They have the same general shape as fries! That's gross! I want to see whole pieces of the bird.  Fortunately, Ponko does offer a sandwich made with a genuine chicken. You can have it with sweet, spicy, or barbecue sauces. I chose spicy. It was good, although as sweet as it was spicy and no match for the Popeye monster. -CL-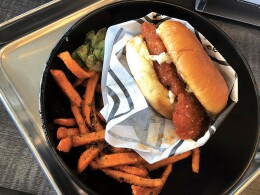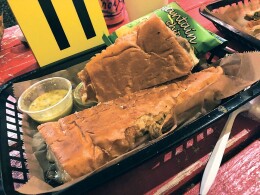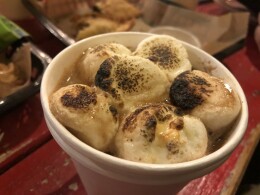 Popeyes, 683 Boulevard N.E., 404-492-5988, popeyes.com
Zun Zún, 479-B Flat Shoals Ave. S.E., 404-401-6691, zunzunatl.com
Zunzi's, 1971 Howell Mill Road, 470-698-2351, www.zunzis.com
Ponko, 4279 Roswell Road, 404-996-6095, ponkochicken.com. (Locations also in Midtown and Chamblee.)
---