See our
guide to COVID-19 in Atlanta
(this page last updated )
OUTLANDISH CONSPIRACY THEORIES: The 'special' review
The university system and its independent audit — of itself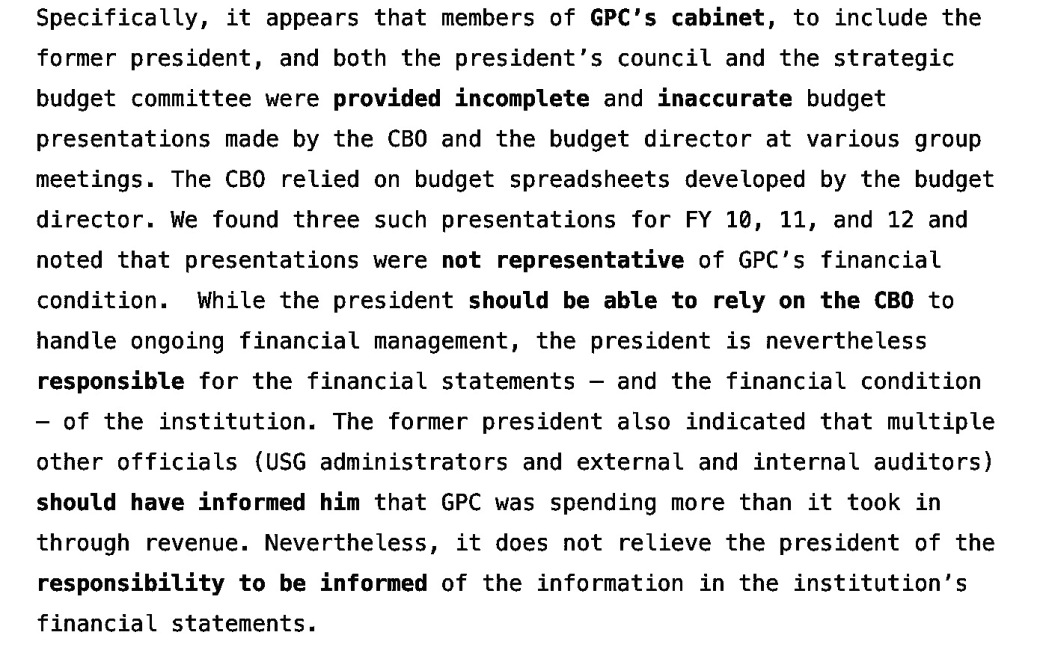 See: All Outlandish Conspiracy Theories columns
                This special review report has been prepared … by members of the internal audit staff of the University System of Georgia …
To summarize, it cannot be determined where the budget was overspent because it was not allocated correctly and contains errors and omissions.
— John Fuchko, Special Review: Georgia Perimeter College
If you ever need to hide the fact that you know $16 million has disappeared from a state agency, the University System of Georgia provides a textbook example of how to do it. And, like Matt Damon in The Departed, make sure you are the one assigned to investigate your own crimes.
On April 26, 2012, the University System of Georgia (USG) announced — or, rather, admitted — there was a $16 million deficit at Georgia Perimeter College (GPC). I say admitted because state records show that USG officials had been hiding this deficit for at least three months, since an internal email, written on January 23, 2012, raised the question: Why was $8 million "gone with no explanation" from GPC reserves?
Such a financial discrepancy would not be good for the school, as GPC was in the middle of being reaccredited by the Southern Association of Colleges and Schools, which requires a college to show sound financial management and a positive bank balance. Among other things, accreditation is necessary for schools to receive federal money.
What is even more unusual about the USG admission is that, on April 26, the same day that the USG announced the $16 million deficit that USG officials had been hiding for at least three months, then-USG Chancellor Hank Huckaby demanded GPC President Anthony Tricoli's immediate resignation — though Tricoli was one of the very people USG officials had been hiding the $16 million shortfall from, along with the rest of the GPC administration.
The $16 million deficit announcement was doubly unusual because GPC's VP of Finance, Ron Carruth, reported large budget surpluses to the GPC administration as late as April 15 — even though, in March, GPC's Assistant VP for Finance Sheletha Champion was reporting a $12.8 million deficit to USG Associate Vice Chancellor Ben Riden, and asking how to treat it in the reaccreditation process.
Then-USG Chancellor Hank Huckaby led a budget hearing for GPC in March, and no one mentioned $8 million gone with no explanation — or a $12.8 million deficit.
We have requested the records of those budget hearings, along with Champion's emails to USG official officials about the budget deficits, but the USG has not produced any documents, and the attorney general has refused to make the school produce the records that show USG officials concealing their knowledge of the GPC financial crisis well before the USG's April 26 announcement that the deficit had just been discovered — supposedly by going over GPC's books the night before.
Tricoli refused Huckaby's demand for his resignation on April 26, claiming someone must have committed financial fraud, but Huckaby delivered to Tricoli a termination letter on May 10, 2012. May 10 is also the day the USG announced it was going to investigate the $16 million deficit. This USG self-review replaced a scheduled state audit.
Five months after Tricoli was fired, the self-review wrapped up its investigation with the release of the Special Review, authored by the USG's head of internal audit, John Fuchko, on September 17, 2012.
In that special report, the one that Attorney General Sam Olens allowed the same officials who had hidden the financial problems at GPC to conduct after investigating themselves, there were some unusual findings:
Of the $16 million deficit, the self-review only accounted for about $6 million — which came from under-reporting of employee benefits by HR director Jim Rasmus — who never suffered any consequences.
About $10 million was never accounted for. The special report says there is no way to know what happened to the money (and no one is looking for it now). A forensic audit could determine what happened to the money, but neither the USG nor the attorney general ever pursued that course.
Fuchko admitted in a footnote that after a January 2012 internal email raised the alarm about millions of dollars from GPC reserves "gone with no explanation," that there was a flurry of emails about what went wrong. Fuchko wrote that the USG did not know about any emails concerning financial problems at GPC.
That statement is contradicted by Sheletha Champion's emails to USG Vice Chancellor Ben Riden, in March of 2012, documenting a $12.8 million deficit and asking how to address it for reaccreditation purposes.
The special review did not mention Ben RIden's email response to Champion in March, in which Riden admitted that most USG schools were in worse financial shape than GPC at the time Champion was reporting a $12.8 million deficit.
While Champion was reporting the $12.8 million deficit to the USG, VP of Finance Ron Carruth was reporting a surplus in the amount of the deficit to GPC President Anthony Tricoli and the rest of the GPC administration.
In fact, the self-review found that two separate sets of books were being kept at GPC, one reporting actual numbers to state auditors, and one showing surpluses to the GPC administration.
Five months after Tricoli was fired, Fuchko concluded it was the right thing to do — even though the evidence confirmed Tricoli's claim that the GPC finances had been knowingly falsified and misrepresented. Fuchko said Tricoli, as GPC president, should be held responsible — not the USG officials who concealed the deficit and falsely reported the surpluses.
The most disturbing thing we have learned about the USG's self-review is that, despite these glaring discrepancies — and despite the inherent conflict of interest of the USG reviewing itself (canceling a scheduled state audit to do so) — the special report was used for GPC's reaccreditation review.
By law, the reaccreditation review requires an independent audit. The USG cannot perform an independent audit of one of its own institutions, especially when there are allegations of financial fraud in which the USG was complicit — that would make it all too easy for USG officials to hide their own incompetence or criminality.
SACS, the regional accreditation agency licensed to perform this task by the U.S. Department of Education, never should have accepted anything less than the independent audit required by law. At the same time the USG and state attorney general were refusing Open Records requests, SACS refused to produce the public documents related to USG reaccreditation during this time period. It would be a felony for the USG to falsify its finances in order to remain eligible for federal funding (the USG receives about a billion a year in federal Pell Grants alone).
All these misrepresentations concerning the finances of a state agency — the attorney general's false claim there was no evidence of criminality to investigate, and current USG Chancellor Steve Wrigley's false concealment of his advance knowledge of the financial crisis from both Tricoli and the Board of Regents — are felony violations of OCGA 16-10-20 and are defined as acts of racketeering under the RICO statute.
The state's position is that state government officials are protected by sovereign immunity for committing such felonies, which means that no one can sue them to hold them accountable for these crimes, not even the victims. —CL—
::
Thursday December 31, 2020 06:21 PM EST
The university system and its independent audit — of itself |
more...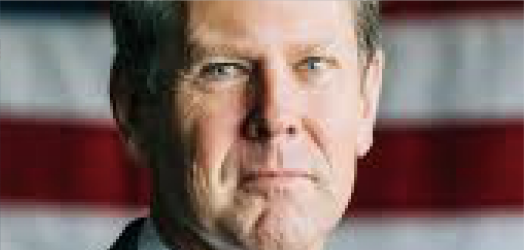 Monday December 21, 2020 11:39 AM EST
The 13th time's the charm? |
more...
Friday October 30, 2020 08:00 AM EDT
Junkyard kings, bootleggers ... and suits belly up to the bar |
more...
Thursday October 29, 2020 05:04 PM EDT
Why the Legislature is asking Georgia voters to save the state's Constitution from the Georgia Supreme Court |
more...
Thursday June 18, 2020 01:51 PM EDT
Outlandish Conspiracy Theories - A look at Georgia's Justice System |
more...
Sunday May 31, 2020 04:34 PM EDT
Conflicts of interest, sleight of hand, and the usual obstruction of justice |
more...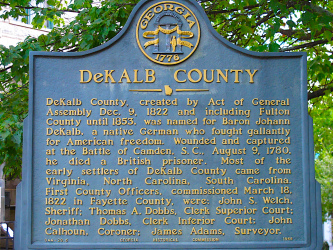 Wednesday May 13, 2020 05:47 PM EDT
Cloak-and-dagger theatrics play out in DeKalb County |
more...