GRAZING: Hot dogs, sideshow freaks, black cats, amnesia, and Sausage Boy
Grazing surveys some Atlanta hot dogs
TOP DOG: SCREAMIN' WEENIES' RECENT WEEKLY SPECIAL, AN INCOMPARABLE DOG FROM FRIPPER'S GRILLED AND SERVED OVER CARAMELIZED ONIONS AND DECORATED WITH THOUSAND ISLAND DRESSING, PICKLES, AND AMERICAN CHEESE.
It was a day that I should have named the Weenie Apocalypse. It was July 11, 1979, and I was in Gibsonton, Florida, outside Tampa. On that day, the whole world was crazy. The 77-ton Skylab space station was set to crash to earth. The fear that it would miss its target, the Indian Ocean, and create random hellfire turned it into the favored party theme everywhere that year.
I went to one such impromptu party that day in Gibsonton, which was famous as the summer residence of the nation's "carnies" — people who work for the carnivals that move all around America most of the year. My particular motivation for spending a few weeks there was to hang out with sideshow performers, especially the stars of so-called freak shows — "human oddities" — for a story I was writing. Unfortunately, it was difficult to penetrate that community unless I combined obsequiousness with drunkenness. I'll spare you the details, but I ended up drunk behind the trailer of a famous freak, grilling burgers and hot dogs. It was a big deal for an outsider to be included by carnies.
The host brought me a hot dog and I balked. "Thanks, but I don't eat those."
I might as well have dropped the Skylab on the festival. Everyone went silent. "You said you love carnivals and you don't eat hot dogs? Why don't you eat them?"
"They make me sick. Ever since I was a kid, they've made me sick. It's nothing personal. They make me sick, man." I laughed drunkenly. "It's like you'd be hit right here by a gut bomb instead of a space station. Haha." Nobody laughed.
Thus did I brand myself a human oddity among professional human oddities. Truly, as long as I can remember, I would not eat the scrap meat ground and compressed into the gruesome treat wrapped in spongy white bread often drenched with ketchup called the hot dog. I did learn to eat some real sausages whose flavor made it worth risking a gastrointestinal catastrophe, but I have mainly avoided hot dogs my entire life ... until a few weeks ago, when I ate so many I lost count. Pathetically, I now crave them. I love them.
It wasn't so much culinary adventure as pandemic cabin fever that led me to my new lover. True, I was intrigued when I came across promo material for a new venture in East Atlanta Village called Screamin' Weenies. The name isn't novel but it's a good choice since the hot dog stand is operated on the rear patio of the very cool Banshee restaurant. Screaming is what banshees do best. It also occurred to me that hot dog joints might make a good pandemic story. I was double-vaccinated but still cautious, and I figured hot dogs are a quick, usually outdoors eat. So I took the pills I take to make scary food digestible and headed over to Screamin' Weenies, which is open 11:30 a.m.-3:30 p.m. Thursday through Saturday.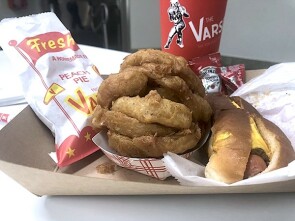 The patio space is small, and most people were picking up at the window of the mini-food truck where the dogs are cooked. I wanted to soak up the screamin' vibe, so I threw my book on one of the few tiny tables available before ordering from the menu of five dogs. There was the Atlanta chili/slaw, the classic Chicago, a New Yorker with stewed onions, the classic naked that you dump everything from relish to sauerkraut on, and the day's special Banshee Dog. I went for the latter. It included a beef hot dog over caramelized onion, flanked by sliced American cheese, topped with Thousand Island dressing pocked with chunks of dill pickle. I got all sentimental when I saw that Cheerwine, the cherry soda I drank on the Catawba River as a kid, was available.
While I swilled my Cheerwine, I watched a woman be repelled from the order window for not wearing a mask. She had left hers in the car. "Hey," I said, "I'm double-vaccinated. You can wear mine." She declined. Hey, it's not like I have herpes, bitch.
I got up to fetch my dog. How do I love thee? Let me count the inches. The slim dog languidly draped itself across the roll, seriously jutting out at each end, grilled with a slight char. The ingredients were arranged with intention. I bit into one of the naked ends and got that vaunted snap from the natural lamb casing. The damn thing was delicious. The firm dog, made locally by Fripper's, tasted like real beef and was nestled in all those creamy textures with one bit of crunch from the pickles. Damn. I wanted another but I confess I wasn't up for paying about $20 for two dogs and a drink. But I was happy. I felt so ashamed that the young me had disparaged that hot dog long ago in Gib'town.
That very evening, I excitedly told my friend Sausage Boy about the experience. He suggested that I may not want to generalize my new happiness to every hot dog in town. For an example of irredeemable misery, he said, I would not be able to write about hot dogs in Atlanta without going to the Varsity. I gasped. "I can't go everywhere," I said.
He said: "The Varsity isn't some unknown everywhere. It's the mother of dogs, the nipple on which every Atlanta child is suckled all the way through adulthood until the grease coagulates in every artery and lands you in a coffin at a funeral celebration catered by the Varsity, the very people who killed you."
I told him I'd think about it. I had, by the way, decided I would limit this adventure to hot dogs, not the more complicated sausages that I really did learn to love. Nor would I be eating the raw onions that overpower every other taste with which they are associated. I would, however, permit myself to sample some chili, despite my dislike of the "classic" stuff that tastes like it was poured from a can stored in a fallout shelter for 40 years.
That night I decided to try the hot dog at Grindhouse Killer Burgers. I've been addicted to their Apache burger ever since they first opened just over 10 years ago at the Sweet Auburn Curb Market. It has since left that location, expanding to several others, including the gigantic one on Memorial Drive that I decided to visit.
It was a Sunday night and I didn't expect a wait. It was, after all, the Lord's Day during a plague he had visited upon the entire world in retaliation for America's embrace of Donald Trump. The place actually was relatively packed, and the line to order moved so slowly that, exasperated, I decided to leave and go across the parking lot to load up on Sunday specials at Supremo Taco. As I approached the window, they literally slammed the shutters closed. "Sold out!" I returned to Grindhouse, and the people in front of me earlier admitted me back to my former place. I waited literally 20 minutes total with a crowd of fellow deep-sighers and eye-rollers.
"Y'all are really slow," I rudely said to the guy taking orders. He explained they were short-handed. Whatever. I placed my order to go and went to wait another 15 minutes at a table. When the bag arrived, I was ravenous and I decided to eat the hot dog on the premises. Grindhouse buys its dogs from legendary Vienna Beef in Chicago. I'd ordered mine with slaw, apparently the Atlanta favorite everywhere. I reached in the bag, pulled it out, and it completely fell apart in my hands. The aluminum foil I presumed was wrapping it turned out to be a loose sheet set over the top of the dog, which was in the usual cardboard cradle. I fetched the dog and bun from the floor. I swept the slaw on the table onto it. I ate it. It was actually delicious, and at $4 (including 50 cents for the slaw), it was the cheapest dog I'd eat. (I should note that the light use of aluminum foil would make the dog's transport less steamy than full wrapping, but my piggy hands did not anticipate that.)
I began to lose track of time. The hands on my clock turned into naked weenies. Eventually, a Saturday rolled around, and I felt fortified enough to attempt the unthinkable: The Varsity. I have lived in Atlanta most of my life and I have been to this enormous cliché only three times, as I recall. Once was in high school, on the way to the Georgia/Georgia Tech game. Second was with a visiting former college roommate who later cursed himself for trusting a tourist guide. Third was with my partner's family. All were occasions of violent protest by my innards.
I was shocked when I arrived, under the influence of GI medication, to see how crowded the place was, although I quickly found a parking space. The long line inside moved more rapidly than the bowels of the diners speeding to the bathrooms. I was happy to see that literally everyone in view was wearing a mask, except for the family of seven Appalachian refugees directly behind me. The woman in front of me surreptitiously took their picture and posted it online. "Where your masks at?" I asked Daddy Billy. He glared and pulled one of his litter close to him like a shield. "If you can use a child as your shield, you can wear a mask, dumbass." Okay, I didn't really say that.
I ordered the iconic crap. A chili-cheese-slaw dog, onion rings, a fried peach pie, and a Frosted Orange. I was happy to notice that I did not hear any of the counter people shrieking the classic mantra, "Whattayahave?" My order instantaneously appeared, and I toted it to the "ESPN room" where I watched the Master's Tournament and had flashbacks to childhood of watching golf all weekend with my father. I ate.
You know what? I hate myself. I ate those gigantic, greasy onion rings in nothing flat. A young guy at a nearby table noted my speed and whined that he didn't receive any ketchup for his rings. I tossed him my envelopes.
"Why do you people put ketchup on everything fried?" I asked him.
"Us people do that to cover up the strongest taste of the grease, dude. Duh!"
Oh my god. It makes sense because everything there does have that singular note of aged, cured frying oil, supposedly never changed for decades.
The Frosted Orange tasted like a melted Creamsicle, a bit watery but good enough to ring the bells of an ice cream truck in my head. The peach pie was fucking delicious. The hot dog of course was the most revolting thing I've put in my mouth since I was potty-trained. The greasy, stinky, yellow-stained chili made with ground-up mystery meat was slimed with hidden slaw from hell and yellow cheese that wouldn't melt. Somehow, the baloney-tasting hot dog itself and its bun literally broke as if it were crying to be put out of its misery. Two bites and I was done. Sorry, dog.
I called Sausage Boy on the way home. "It wasn't that bad," I said. "Only the hot dog was inedible."
"But the hot dog is the point," he said. "You failed."
I was okay with failing. The Lord's Day arrived again. I decided to head to Cabbagetown to visit Little's Food Store, where I hadn't been in years. I used to love to visit it and neighboring Carroll Street Café but that narrow street is a nightmare to negotiate. I actually embarrassed myself by immediately finding a large parking space directly in front of Little's, which looks like a monument to so-called outsider art. As usual, the street was full of milling residents, hanging out in a few vacant lots turned into make-shift parks.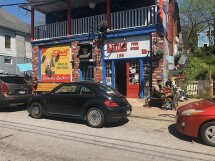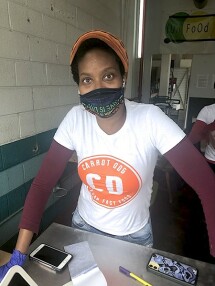 I went inside. My eyes teared-up seeing all the grunge, and I rushed toward the grill where I was abruptly told to step my ass back. Soon enough, I ordered a chili dog with a side of slaw and some fries. I loitered, looking around mindlessly. An employee ordered me outside, where she soon brought my food in a black Styrofoam box.
I sat on a bench outside the store and opened the box. My plan was to dump the sweet, spicy slaw on the chili dog, but that was difficult. I bit into the dog. I sighed. "I might as well face it," I told the black cat that had suddenly appeared. "I just don't like this super-ground version of chili that seems to be everyone's favorite." I dunked a limp fry in the chili and put it on the sidewalk for the presumably hungry stray. The cat sniffed and looked away. Fine. I put some slaw down. He struck it with his paw and backed away. Then he turned the corner and ran up the stairs to his apparent home. I wasn't quite as unimpressed as the cat, who probably got sick of the food years ago, and the chili was definitely better than the Varsity's, as was the hot dog itself, made by Fripper's like those at Screamin' Weenies. I ate it all. But I shuddered when I looked up and saw that Little's flew a pirate's flag. Between it and the black cat, I must have been bound for bad luck.
I called Sausage Boy again. "I'm becoming indiscriminate," I said. "Everything is running together in my head. A black cat derided me for eating a chili dog today." He proposed a solution: "Go try a vegan or vegetarian hot dog."
Was this the bad luck the cat brought? Most of the hot dog places I investigated did offer such a thing, but how could something I have always hated be any more tolerable when imitated by healthy vegetables put to criminal use? But I decided to give it a go. I journeyed in the rain to the MET in West Atlanta. This gigantic warehouse development is home to La Bodega, a take-out pupuseria which also hosts the Window, a pop-up location for start-ups. One of those is Carrot Dog, operated by Kemi Bennings as part of her company, Food for Thought Vegan Café. She has an impressive resume of feeding celebrities and brands herself a "renaissance woman and creative badass."
When I first saw Carrot Dog during an earlier visit to review Bodega, I was thoroughly repulsed. I don't really like carrots, and at the time I still really loathed even the thought of a hot dog. I'm going to be hated for saying this, but I ended up telling myself that this ridiculous creation was my favorite hot dog. I don't know if that's fair. Calling a carrot a weenie may be too oxymoronic even for this dying world.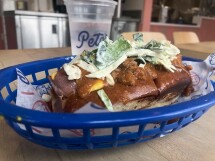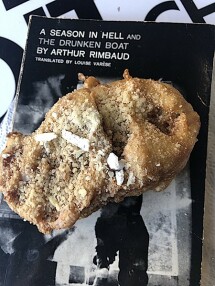 Bennings brines fat carrots in countless spices before cooking them. The carrots have just the right texture. They aren't mushy like the ones your mother serves with pot roast, and they aren't raw and unseasoned like people who claim they improve vision want them to be. These are nestled into slightly grilled buns and then dressed in a variety of ways. I chose a "Southern Santa Fe" specialty dog. The carrot is covered with chopped romaine lettuce, sliced avocado, smoked chipotle vegan mayo, chopped onions (which I declined), and, um, vegan bacon. Alright, I admit that the best thing about the tiny flap of vegan bacon was that it was completely inconspicuous with no noticeable taste or texture. I actually would have preferred more heat from the chipotle mayo, but this creation was a huge relief from everything I'd eaten. I think the effect was like eating dog food for weeks and then being served a fresh salad. Whatever, it was really good and only available Saturdays.
But I was still hungry.
Shamefully, on the way home, I decided to pay a second quick visit to Hot Dog Pete's in Summerhill. I had tried takeout with a friend last summer and wasn't impressed enough to eat more than a couple of bites of the two dogs we ordered. The menu includes sausages as well as an all-beef wiener and one made with beef and pork. They are all made by Fritz's Meat & Superior Sausage in Kansas City. Pete's shares ownership and patios with the oddly named Hero Doughnuts & Buns. More than doughnuts, Hero is known for its sandwiches made with house-baked brioche buns. The fried pork chop, the "Super Crunch" chicken, and the burger are all as addictive as the name of the house's secret sauce — "crack sauce" — suggests.
To stay consistent, I ordered an all-beef hot dog with chili and slaw. The big difference here is slaw made with collards and a brioche bun from Alon's that earns our highly coveted Best of the Buns Award. Everything about this dog was savory — even the chili, despite one flaw: weirdly dry beans. But I'll gladly deal with that in exchange for not having to deal with the over-seasoned greasy stuff that most seem to prefer.
Time ticked on. I was growing tired of this adventure. I called Sausage Boy and told him I felt I needed to get to two more places — the Original Hot Dog Factory and Skip's Chicago Dogs. "I need encouragement," I told him. "Last night I dreamed I was back in Gibsonton and Lobster Boy murdered me." The Sausage told me he had faith in me. I hung up the phone and got in my car and headed to the Original Hot Dog Factory on Piedmont Avenue. It's technically on the Georgia State University campus.
About four hours later I was looking up from a bed and had no idea where I was. A doctor explained that I was in the Emory Midtown Hospital emergency room. I had been in a car wreck. I was completely uninjured, but I was in a state of total amnesia. I remembered nothing of the last hours. "What is wrong with me?" I asked.
"We're not sure," he said.
"It's the hot dogs," I said.
"What?"
"Never mind."
He wanted me to stay overnight for examination the next morning by a neurologist. However, Kaiser, my insurance company, insisted that I be discharged (and it took over a week to get an appointment with them). The next morning, I Ubered to pick up my car at the city lot where it had been towed. I expected it to be damaged, but it was not. "Are you okay?" one of the employees out front asked me.
"I need a hot dog."
I got in my car and drove directly to the Original Hot Dog Factory. I wasn't sure if I had actually been there or not. I only knew that my accident, which involved another car, was in the immediate area. The restaurant, part of a chain, was empty except for me and two employees.
"Hey," I said, "did y'all happen to see an accident near here yesterday?" They said they had not. "Well, what about me? Did I eat here?" They looked a bit perturbed. "Never mind," I said. With the advice of one of the employees, I ordered the all-beef Hawaiian dog. I also forced myself to do the unthinkable and order the second corn dog of my life.
As I had come to realize by this point, there is no such thing as a hot dog with too much topping. The Hawaiian dog's included a gigantic load of bacon, cheese, lightly grilled onions, and lots of grilled pineapple. In other words, it was the weenie version of the Hawaiian pizza which I usually detest, but it was the perfect mindless food for the amnesiac I had become. I figured I'd forget it by the time I got home. Obviously, I didn't. I do congratulate myself for being able to eat the mess without resorting to a knife and fork. Hot dogs have made me a master of finger food.
I don't know exactly why the concept of a corn dog disgusts me. The only one I remember ever eating was on a dare at Dakota Blue in Grant Park about five years ago, and I actually kind of liked it. My corn dog at The Hot Dog Factory looked like a bulbous fried sex toy. I nervously bit into it and was surprised by a rush of crispy, juicy sweetness. The all-beef dog retained its earthy flavor. Yeah, boy!
I decided I needed to try a dessert. This causes me a great deal of shame, and I blame it on my brain-rattling accident. I ate a fried Twinkie. I can say with absolute certainty that I have never eaten a Twinkie in any form, although I was tempted in the late '70s when Dan White supposedly blamed eating too many Twinkies for his assassination of San Francisco Mayor George Moscone and Supervisor Harvey Milk. This was labeled the "Twinkie Defense." I have no viable defense of my decision to eat the deep-fried mess at the Hot Dog Factory, but it was spectacularly delicious, like a fist full of creamy melting cake oozing all kinds of white stuff inside sugar-coated crispy batter. It made the glazed donut at Krispy Kreme seem so pathetic.
I shared this discovery with Sausage Boy, explaining that I was starting to doubt my taste. He acknowledged my worry but urged me to be kinder to myself. I told him the Twinkie had awakened a memory of working at Six Flags Over Georgia when I was 16. How had I forgotten that I worked in a hot dog stand? How had I forgotten how much I hated the customers who acted like they were buying delicacies instead of shitloads of crap I barely cooked on a griddle? How had I forgotten that throwing a hot dog at a customer and shoving him with a broom handle had nearly gotten me fired? Obviously, the hot dog — foe of my digestion and weapon against redneck assholes — was intimately connected to the PTSD I never knew I suffered. "Be strong," Sausage Boy told me. "You're at the end."
Onward! Wednesday arrived. That's the day I resumed my years-long weekly lunch with two fully vaccinated friends. We drove to 40-year-old Skip's Chicago Dogs in Avondale, probably the venue most hot dog lovers mentioned to me when I asked for recommendations. It looks like your usual fast-food place with mustard-and-ketchup-colored walls hung with sports stuff. Despite the name, sandwiches and burgers outnumber the hot dogs, which are made with Vienna beef.
In my little sampling of hot dogs over the years, the Chicago style has usually been the most appetizing. Skip's dog, according to the menu, is typically topped with pickles, peppers, celery salt, mustard, relish, and tomatoes. Sorry, Skip, but my dog was a low-class version. I found none of the juicy-hot sport pickles that I love. The huge strip of dill pickle overwhelmed everything. The tomatoes were pink and flavorless. What am I missing, people?
By way of comparison to the Varsity, with which everyone positively compared it, I also ordered onion rings and a chili-slaw dog. The rings weren't bad, but they were anemically skinny compared to the Varsity's (and, granted, a ton less greasy). While no chili anywhere on the planet is as vile as the Varsity's, Skip's was totally meh, and the slaw tasted straight out of the Kroger deli bin. My friends did no better with their orders. I expected this to be the grand finale of my tour. But it was more like a return to vapidity. I felt my lust for hot dogs deflating, and, looking back, it was the dogs at Screamin' Weenies and Carrot Dog that I hold dearest to my broken heart.
I called Sausage Boy and told him I was done. He warmly congratulated me. "Is Little's black cat of bad fortune on you forever? Was it worth the traffic accident you don't remember and might land you in jail?" he asked. "Was it worth the derepression of traumatic memories of the human oddities you outraged and the customer you assaulted with a hot dog at Six Flags? What impassions you now? What calls you?"
I had no answer. I had gone so high. Maybe … I called Sausage Boy repeatedly for guidance in the weeks that followed and never heard back from him. Finally, the doorbell rang one day, and there was a black cat on the front porch with a weenie between its teeth. It was time to start over. —CL—
Screamin' Weenies, 1271 Glenwood Ave. (rear of Banshee), 404-428-2034, open 11:30 a.m.-3:30 p.m. Thurs.-Sat. only, @screaminweeniesatlanta
Grindhouse Killer Burgers, 701 Memorial Drive S.E., 404-228-3722, grindhouseburgers.com.
The Varsity, 61 North Ave. N.W., 404-881-1706, https://www.thevarsity.com/
Little's Food Store, 198 Carroll St. S.E., 404-963-7012, https://www.littlesfoodstore.com/
Carrot Dog, 680 Murphy Ave., 404-447-8451, open 12-4 p.m. Saturdays, kemibennings.com, Kemi Bennings @carrotdogatl
Hot Dog Pete's, 25 Georgia Ave., 470-369-6777, hotdogpetes.com, @hotdogpetes
The Original Hot Dog Factory, 75 Piedmont Ave., 404-907-4133, theoriginalhotdogfactory.com
Skip's Chicago Dogs, 48 N. Avondale Road, Avondale Estates, 404-292-6703, skipschicagodogs.com
---