Oral Pleasures
In these absurd and horrifying times, I sometimes feel a little silly writing about food. In a previous life, working as managing editor for a magazine in Chiang Mai, Thailand, I spent most of my ink on human rights abuses, religious hypocrisy and vanishing indigenous cultures. I wrote about food, too, but it was always a separate, secondary interest. When I moved back to the states — just a few days before Trump announced his candidacy for president (nobody's ever accused me of great timing) — and eventually nabbed the food editor gig at Creative Loafing, I was thrilled at the opportunity yet hesitant to box myself in. And as I watched the darkest parts of our national ethos advance with more and more impunity, my hesitancy remained. Neo-Nazis are marching the streets, for chrissakes. Who cares about the consistency of one's crème brulée?
What I've learned over this past year, however, is that food can be political. Rather than a box, it's an entry point. After all, everybody eats. Just ask the poor shmuck responsible for serving our tangerine fuckwad-in-chief's well-done steak with ketchup every day.
With this notion in mind, we at CL have tried to use food as a lens to explore local issues like gentrification, homelessness and refugee rights. The 2017 edition of Oral Pleasures, positioned within this year's overall theme of Evolution/Revolution, recognizes those within our culinary community who do the same.
Atlanta is a city of revolutionaries. We can and will fight the powers that be. We can and will evolve. Now, let's eat.
— Hilary Cadigan, CL Food Editor
---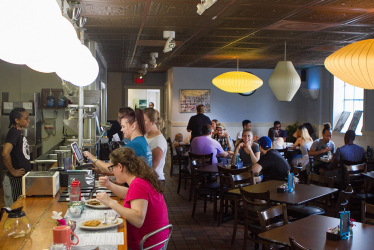 Wednesday September 13, 2017 07:57 PM EDT
Dedicated to serving everyone, the long-running brunch spot supports self-sufficiency for Atlanta's homeless population |
more...
---
Browse by Category