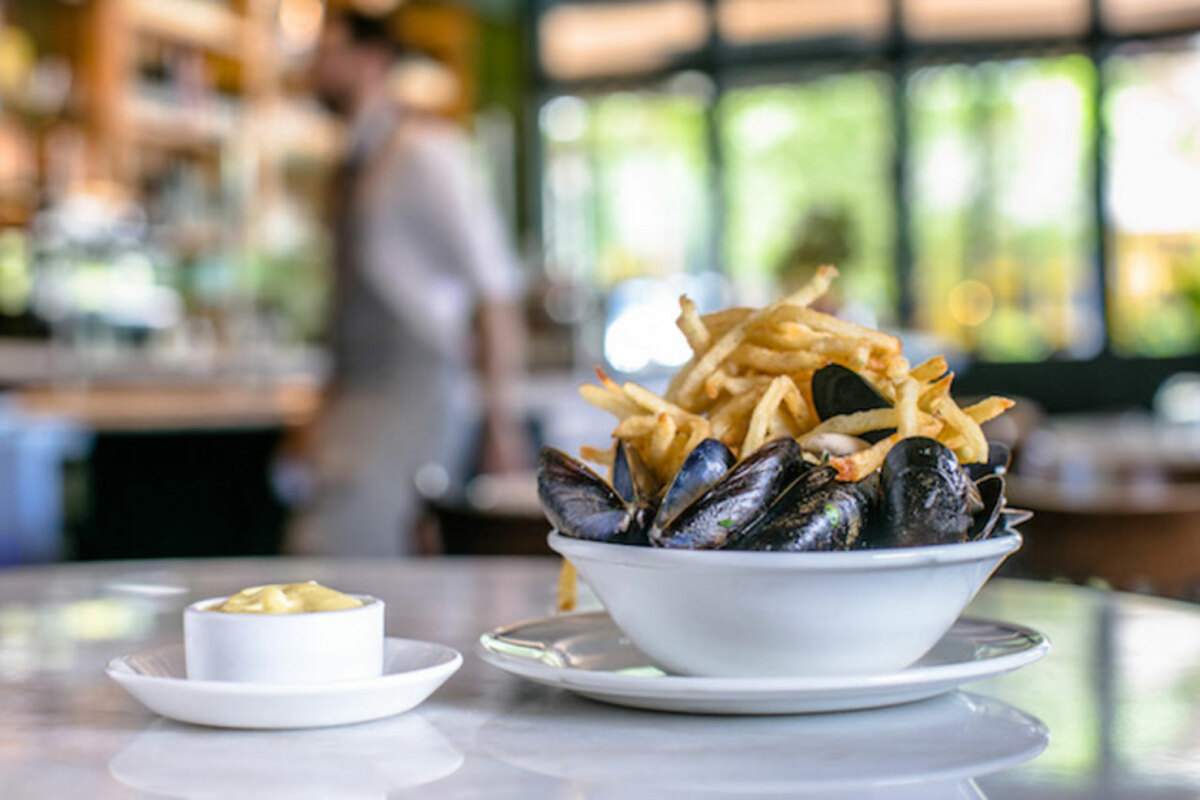 100 Dishes to Eat in Atlanta
---
---
I downloaded a new app the other day called Timehop. Once synced, the app compiles all of your social media updates from that day years ago into a time capsule-y newsletter you get to sift through every morning. It's like catnip for nostalgia junkies, engrossing and at times embarrassing. (Could I have posted any more angsty hip-hop lyrics between 2008 and 2009?) Each update shows what you were up to, what you were like and, maybe, if you're lucky, illuminates the ways in which you've grown.
At the outset of Creative Loafing's 100 Dishes project for 2015 I revisited the 2011 and 2013 lists. Looking at the previous dishes that were selected gave me a sense of what was going on in the Atlanta food world at those moments in time. In the last five years, menus were more static and meat-centric. Exotic ethnic cuisines commanded our attention. Today, more chefs are searching for inspiration in their own backyards, embracing simple, ingredient-driven cuisines. Local food has become the norm in many Atlanta restaurants and, as a result, there seem to be more seasonal and vegetable-driven restaurant menus.
One hundred dishes sounds like a lot. But it's not. Not when you have a city teeming with great food. We, and by we I mean all the core contributors to CL's dining section, began by compiling a long list of the most memorable dishes we recalled eating over the last two years. We added our current go-tos, mainstays, and comfort foods. Then we asked our friends and families about their favorites. We posed the question on social media and took suggestions from readers. For months I asked nearly every person I met, including the ladies at the nail salon (who dig Nam Phuong) and a pair of friendly police officers (fans of the Highlander and Tin Lizzy's) at a Midtown Starbucks.
We traveled near and far to follow up on the most promising candidates. A few of the dishes such as the cheese steak at the Mad Italian, for example, were unanimously agreed upon. For many selections, cases had to be made and argued, which led to several heated debates. At the end of the day, we gravitated toward things that felt somewhat under the radar (chicken nuggets at Quickly Bubble Tea), hidden gems with cult followings (chow kway teow at Mamak), and dishes that are available year-round (Southern fried chicken parm at BoccaLupo). In general, the list hews toward the fresh and the unexpected (Cinnamon Toast Crunch milk shake at Pallookaville), but there are also some time-tested favorites we couldn't bear to part with (drunken noodles at Little Bangkok).
Lists, or listicles as we in the media have come to call them, are contentious by nature. They're exclusive: who's in, who's out, what ranks where. We didn't want that to be the takeaway here. Much in the same way food culture says something about the people doing the eating, lists reflect the identity and opinions of their creators. Rather than only choosing dishes we thought were "the Best" - whatever that is - or the most iconic or the most famous, we wanted a list that ultimately represented who we are and what it's like to eat in Atlanta right now. Restaurants and menus change so quickly and so frequently; lists like this can become obsolete soon after they go to press. For this year's edition of 100 Dishes to Eat in Atlanta, our simple hope is to share with you a quirky and crazy-delicious snapshot of what this city has to offer — a moment in Atlanta food history frozen in time.
-
Stephanie Dazey, Food Editor
Contributors: Max Blau, Rodney Carmichael, Gray Chapman, Stephanie Dazey, Kate Douds, Ryan Fleisher, Gavin Godfrey, Emily Griffin, Ed Hall, Angela Hansberger, Kaylyn Hinz, Hillary Holley, Brad Kaplan, Meagan Mastriani, Debbie Michaud, Chad Radford, Jennifer Zyman
Contributing photographers: Eric Cash, Scott Chester, Joeff Davis, Maria Lioy, Erik Meadows, Matthew Smith, Mia Yakel
Small Plates, Apps and Sides
Though only the starter course, these delicious dishes may be the best part of your meal
Breakfast
Wake up to the best breakfasts in Atlanta
Salads
Atlanta's best salads you must try now
Available at
Thirteen Pies
If all salads were this addictive, the lunch line would be a healthier, happier place. Thirteen Pies' chopped salad starts with crisp pieces of romaine lettuce. There are cherry tomatoes and fresh cucumbers for some crunch and sweetness. Chewy fennel salami gives the vegetables a meaty counterpoint; smoked provolone cheese introduces the element of cream. But it's the happy burn from the dressing, a Parmesan-herb vinaigrette spiked with pickled chili peppers and briny Castelvetrano olives, that takes this salad from simple to stunning. $12.
Soups
Warm up with Atlanta's best soups
Available at
Bocado
Few foods are as enticing as melted cheese. It's salty, gooey, buttery, and comforting. At lunch, Bocado serves up toasted, golden, melty goodness made with three types of cheese: molten dry Jack, nutty comte, and piquant fromage blanc. Melded between griddled, crusty bread, the combo will knock your socks off. But that's not all. A thick tomato bisque Goldilocks would dig — not too savory, not too sweet — is served alongside. Dip the golden ends in the soul-warming soup or use the accompanying Parmesan croutons to soak up every drop. $11.
Available at
Haru Ichiban Japanese Restaurant
This Japanese standby was around before ramen was trendy in Atlanta and is still going strong. At Haru Ichiban, you can customize your tonkotsu ramen filled with pork, bamboo shoots, green onion, and noodles any way you want. Is spice your thing? They'll make that creamy pork broth red as an apple with chili powder, so red you'll have to poke around to find those chewy ramen noodles under the silky surface. It's arguably the most satisfying bowl of ramen out there right now. $7.50-$11.
Burgers and Sandwiches
Run, don't walk, to try these dishes - best food between sliced bread
Pasta, Pizza and Noodles
Atlanta's best noodle and pizza dishes
Meatless Entrees
The best vegetarian-friendly dishes in Atlanta
Seafood
Atlanta's best fishy dishes
Meat Entrees
Eat here now: Atlanta's heartiest meaty meals
Desserts and Sweets
Atlanta's best treats for those with a sweet tooth
Cocktails
Atlanta's best mixed drinks